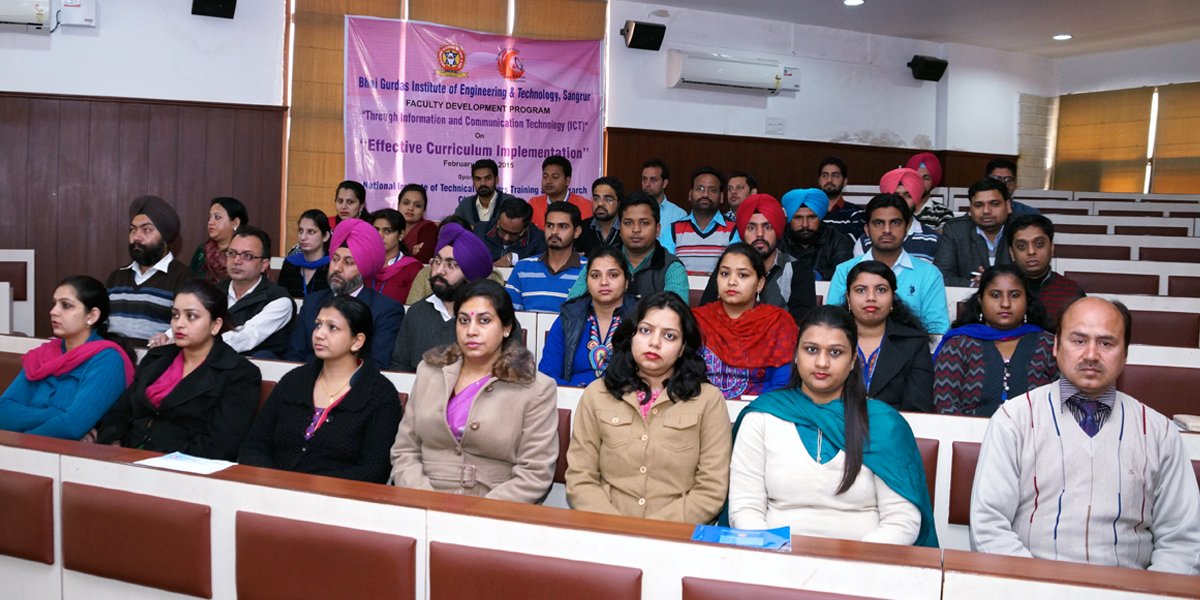 Online Faculty Development Program
Online faculty development program me through NITTTR at BGIET
Recognized as one of the best learning educational institutes of Malwa region, Bhai Gurdas Group of Institutions has received much admiration for fulfilling its pledge by transforming the lives of its students into a successful future. Continuing this trend, BGIET organized a Five-day Online ICT Program on Effective Curriculum Implementation .This FDP was organized by Curriculum Development Centre of National Institute of Technical Teachers Training and Research, Chandigarh (NITTTR). Online inaugural ceremony and valedictory ceremony was held keeping go- green revolution in mind.
This online workshop was an opportunity to understand the Effectiveness of Curriculum Development and its proper implementation while educating students. With Video conference and the knowledge of research experts, the teachers engrossed maximum enthusiasm from this FDP and made this event livelier with their interaction with the speakers. This FDP was an example of go-green revolution with less expenditure and more knowledge. The Mr. S.K. Gupta (office in-charge) along with Mr. P.K. Singla updated faculty members in Project Planning, Organizing and Evaluation. Prof. V.P Puri talked about Resource management .The speakers dealt with the aspects of Technical Education and Curriculum Development in the life of the teacher and young entrepreneurs entrusted with the spirit to transform and serve the country. In the FDP Dr. S.K. Dhameja upgraded on the entrepreneurship skills that need to be developed in the students.
In addition, Dr.S.K.Bhattacharya talked about Networking with industry for curriculum implementation. The speaker of the last session Ms.Suditi Jindal emphasized on the Personality Development of students for their life and for fulfilling the demands of the top-of-the-line companies.
In the keynote to address, S. Hakam Singh Jawandha, Chairman, Bhai Gurdas Group of Institutions inaugurated the FDP by lightening the lamp. He said that such workshops are chiefly the base for learning the technicalities for the start of advancement in teaching. He assured that he will try that such workshops will be organized time to time at Bhai Gurdas Group of Institutions.
Dr. Guninderjit Singh Jawandha, Executive, Member, Dean Colleges and Dr.Tanuja Srivastava, Director Bhai Gurdas Institute of Engineering and Technology thanked the speakers for motivating the teachers for working on effective curriculum. They further assured the teachers, that such seminars will be organized for them in future too. All the guidelines on curriculum implementation, evaluation, quality assurance, organizing and management will enable them to perform their responsibility of educating and guiding the students in a profound manner. This workshop will held to implement curriculum in an effective way and with exchange of thoughts in the whole process.