Bhai Gurdas Group of Institutions Sangrur celebrated annual Tech Fest, Armageddon 17.0
November 30, 2017 @ 8:00 am

-

5:00 pm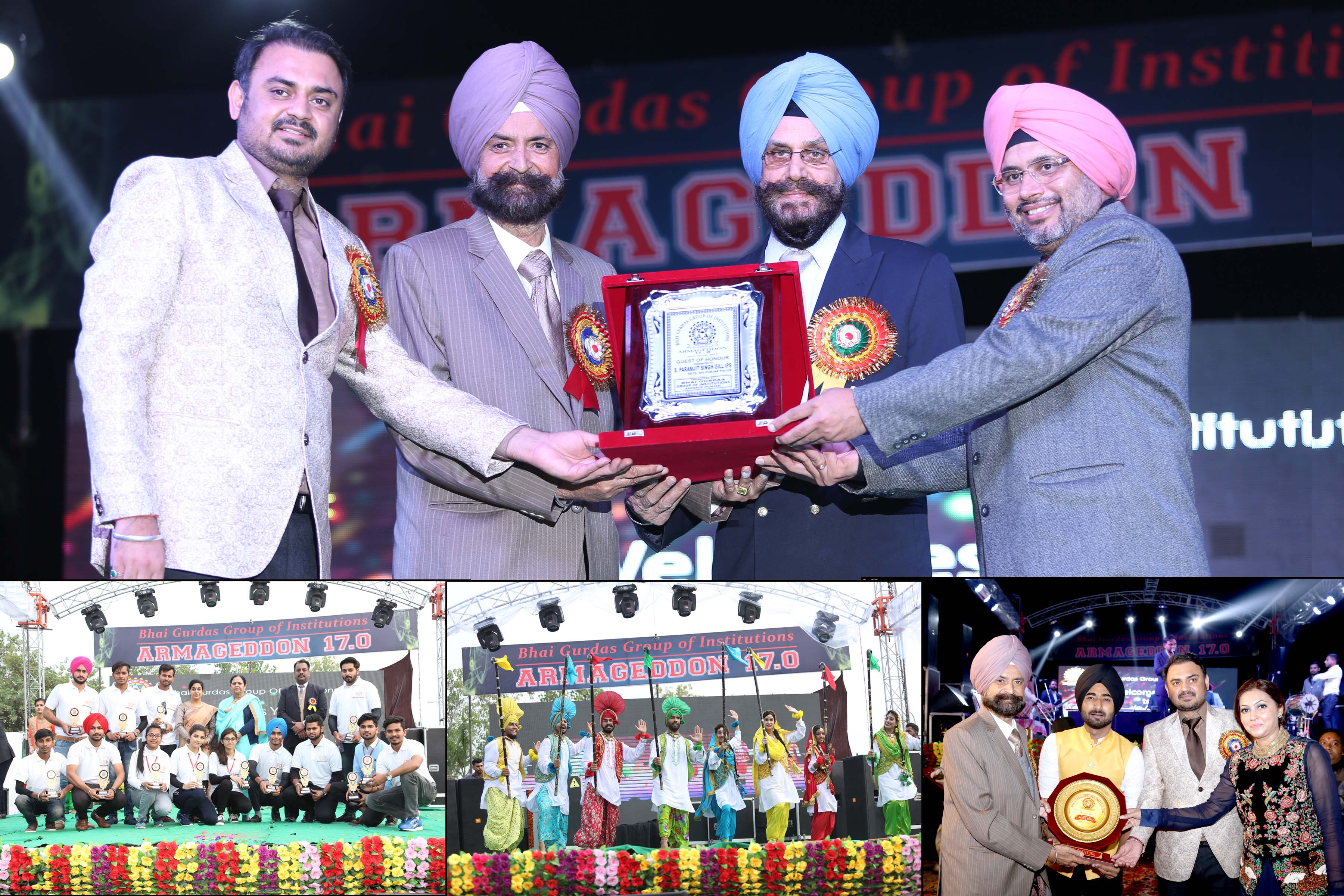 Bhai Gurdas Group of Institutions Sangrur celebrated its two days annual Tech Fest, Armageddon 17.0, with much fanfare and joy. On the first day of the event, the Chairman of the Institute Sardar Hakam Singh Jawandha began the  Program began by lamp lighting. On this occasion Bhai Gurdas Group's Engineering College, Polytechnic College, Management, Nursing, Law and Degree College's students presented many cultural programs.
In this event Sh. A. S. Rai, I.P.S (I.G. Patiala Zone) was the chief guest of this event. Mr. Paramjeet Singh Gill (Retd. D.I.G), the Chairman of the Institute Sardar Hakam Singh Jawandha, Mrs. Baljinder Kaur Jawandha, Dr. Guninderjit Singh Jawandha and Dr. Suvreet Kaur Jawandha were among the Guest of Honour. Along with this Punjabi Super Star Singer Ranjit Bawa mesmerize the audience with his melodious songs. Sh. A. S. Rai addressed the students that they are lucky that they got chance to study in such a prestigious college with culture and values.  He told that not only the study but the efforts of bringing close the culture to young generation done by the Chairman of the Institute Sardar Hakam Singh Jawandha, are praiseworthy. He further told that lead role he is playing is beneficial not only to students but also to the country.
Sardar Paramjeet Singh Gill addressed the students and told them that the teacher plays a role of leader, so students should take proper guidance from them. To make the Fest Armageddon 17.0 more enjoyable Bhai Gurdas Group organized a Star Night. The famous Punjabi Singer Ranjit Bawa mesmerize the audience by non stop two hours singing during live night very beautifully. Around eight thousand students could not resist from dancing upon the songs of  Ranjit Bawa in college ground. In the begning of the programme students presented classical dance, western dance and giddha by girls. The students of BGIET from Manipur displayed their culture by presenting their folk dance. In the list of different colleges who participated were Swami Vivekananda engineering college banur, Sant longowal institute of engineering and technology longowal, Baba Farid college Bathinda, Rayat Institute and other colleges. In the cultural night the winners of Bhangra got Rs 31000 and 21000 as award. Western group dance winner's team got 21000 and 11000 in prize. Punjabi group dance winners got 21000 and 11000 and Giddha winners got 31000 and 21000 in prize. The technical event and non technical event were organized in which poster presentation; paper presentation, project display, mind booster, quiz mania, auto cado, mehndi, rangoli, tug of war; just a minute and turban tieing were the competitions in the fest. Project making pre engineering and engineering competition two winning teams got Rs. 5100, 3100. Project Making engineering competition three winning teams got Rs. 7100, 5100 and 3100. Two winners of ROBO War Robo Race competition were given 2100 and 1100 in prize. In the tech fest professional dance bike stunt were displayed.
On the ending of the program Chairman, Bhai Gurdas Group of Institutions S. Hakam Singh Jawandha said that the Institute keeps its students pace both on the technical skills as well as non technical skills. This tenth Tech Fest, he added, will provide a platform to students for their professional growth. Dr. Guninderjit Singh Jawandha (Executive Member) congratulated all the Directors/Principals and staff on successful completion of 10th National Level Tech Fest and said that as these programs always give students a platform to outshine and know their culture and heritage incredibly. He expressed his gratitude to Press Media and Guest for arriving at the event of Armageddon 17.0.